Nao
---
Nao robot
Robot Nao, started in 2005 and aims to deliver a humanoid robot with mechanical, electronic and cognitive skills to a wider audience, at a reasonable price. NAO is to become a friend of the family in assisting in daily tasks at home. Afterwards, there is a platform where you can add extra functionality to the robot by means of Apps.The latest version is the NAO6. We encounter Nao in various applications. For example, the robot is used as a buddy for children with diabetes and the robot is often used in education. In most cases, the Nao is sold in combination with specific software that provides the functionality. An indicative price is around 6,000 Euro.
---
Nao is manufacturered by
Softbank
---
Links for Nao
Rent robots for an innovation event
Features Nao
Nao has four microphones mounted in his head and a voice recognition and analysis system. It recognizes a set of pre-defined words that you can fill with your own expressions. These words trigger any behavior you choose. Afterwards, it is also suitable for detecting the source of a sound.
Languages NAO
Text to speach: English, French, Spanish, German, Italian, Chinese, Japanese, Korean, Portuguese
Automatic speaking : English, French, Spanish, German,
Recognition languages : Italian, Chinese, Japanese, Korean
Aldebaran Robotics Nao H25 humanoïde robot
Aldebaran Robotics Nao H25 humanoid robot. Aldebaran Robotics showed her latest version of the Nao robot, the NAO H25, at the 2010 Humanoids Conference in Atlanta. Nao's body has been redesigned and is a lot more attractive and robust. The NAO H25 has more curved arms that give the robot more space to pick up and throw things up. Aldebaran improved:
- The body controls movement
- Voice recognition
- Sound localization
- The face and image recognition
- Standard equipped with an embedded computer and wifi connection, NAO is completely autonomous and a secure connection to the internet content can be accessed.
- Equipped with two speakers and a number of microphones, NAO has a top quality sound system to play music.
---
Latest news about Nao
Robot makes its debut at the 2018 Eurovision Song Contest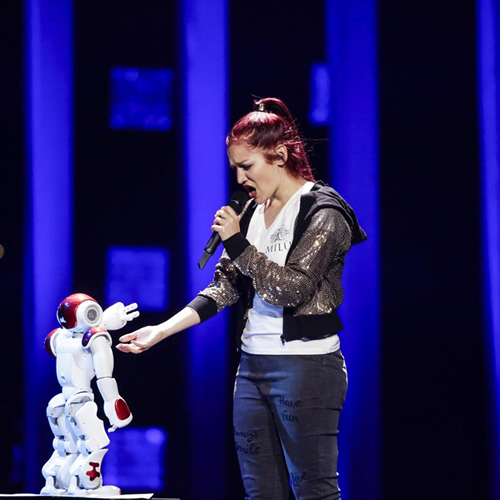 San Marino was the first country to add a robot to its act at the Eurovision song festival. During the song Who We Are by Jessika feat. Jenifer Brening we see 4 NAO robots accompanying the singer with dance and entertainment.
...read more