Aibo
---
Your robot dog
New robot dog Aibo. AIBO is back. After more than ten years, Sony has decided to give a new life to his iconic robot dog. The aim is that the robot dog can form an emotional bond with members of the family and offer them love, affection and pleasure. Aibo can be ordered in the United States as of September 2018 for $2 899. Sony has also announced that this is a limited edition product, but has not said how many puppies they will produce exactly.
---
Aibo is manufacturered by
Sony
---
Links for Aibo
Sony Aibo order (waiting list)
Aibo
In Japanese, Aibo means: partner. The robotpuppy is made with an eye to interactivity and that is clearly noticeable in the hardware. Aibo has a lot of sensors, cameras and drives to activate it and make it as interactive as possible. The camera on his back helps him go back to the charging station when needed and the nose camera helps him find his Aibone and recognize up to a hundred family members and friends through facial recognition. There is also an app for the puppy with which you can teach him tricks and check his knowledge.
Artificial intelligence learning
If you take Aibo out of the box, the experience is about the same as coming home with a puppy. The robot has no tricks and will not listen to you. But the more you play with the robot, the more he will recognize your face, find out how to sit, lie down and be trained in general. The not too low price also includes three years of Sony's AI Cloud service that stores what Aibo learns every day and improves AI algorithms.
Aibo-ERS-210
Sony's Aibo entertainment robot ERS 210 is the second generation robot dog. The first version was launched in June 1999 and sold for USD 2,500 in limited quantity. This new version is better suited for a larger audience. The version is in more colors black, gold and silver.
- In Japanese, Aibo means: partner
- Robot pets as toys
- Will Aibo become our friend of the future?
---
Latest news about Aibo
Robotdog Aibo from Sony is back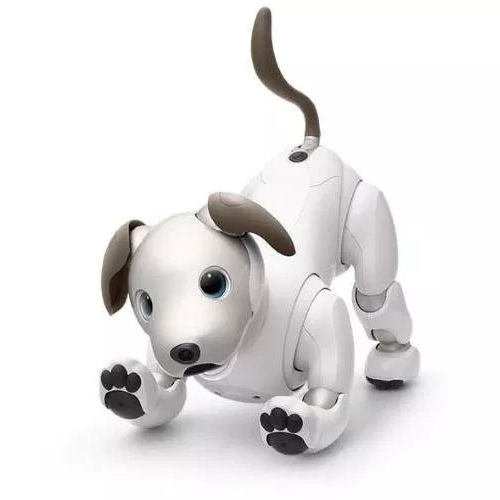 New robot dog Aibo AIBO is back. After more than ten years, Sony has decided to give a new life to his iconic robot dog. The aim is that the robot dog can form an emotional bond with members of the family and offer them love, affection and pleasure. Aibo ERS-1000
...read more