Robotdog Aibo from Sony is back
---
New robot dog Aibo
AIBO is back. After more than ten years, Sony has decided to give a new life to his iconic robot dog. The aim is that the robot dog can form an emotional bond with members of the family and offer them love, affection and pleasure.
Aibo ERS-1000
---
Related Products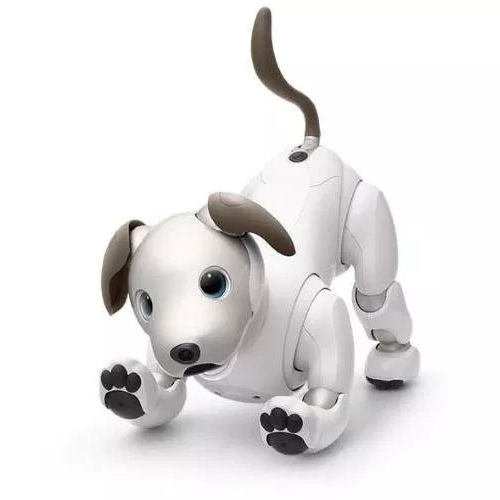 Ihr Roboterhund
Neuer Roboterhund Aibo. AIBO ist zurück. Nach mehr als zehn Jahren hat Sony beschlossen, seinem legendären Roboterhund ein neues Leben einzuhauchen. Ziel ist es, dass der Roboterhund eine emotionale Bindung zu den Familienmitgliedern aufbauen und ihnen Liebe, Zuneigung und Freude bieten kann. Aibo kann in den Vereinigten Staaten ab September 2018 für $2 899 bestellt werden. Sony hat auch angekündigt, dass es sich um ein Produkt in limitierter Auflage handelt, aber nicht gesagt, wie viele Welpen sie genau produzieren werden.
Aibo
---
Related Categories
---
Aibo ERS-1000
The robot dog can move along 22 axes. In front of the eyes, OLED panels have been used to show a variety of expressions that can turn emotion into a downplaying effect. Battery life is estimated to be approximately two hours, with a charging time of three hours. Getting to know the boss, machine learning Sony says that Aibo can change its behaviour. The dog learns what makes the owner happy and gradually gets used to the environments. It uses in-depth learning technology to analyze the sounds and images that arrive via Aibo's range of sensors, and uses the cloud to learn from the experiences of other Aibos.
Robothond Aibo
My Aibo
There is an app called My Aibo that is used to access settings, view pictures from the dog's camera and download additional "tricks" from a shop. Aibo now also needs a subscription (approx. 25 Euro per month). This also offers the possibility for Wi-Fi and LTE (mobile) connection.
Price and availability
The new Aibo is available for pre-order in Japan as of today and will be sold as of January 2018. The robot dog is going to cost about $1,700, -. About sales outside Japan is not yet known.