Ipal
---
Ipal social robot
iPAL Robot, according to the supplier, AvatarMind, the robot can be used for Children's Education, Elder Care, and Hospitality/Retail. Various software packages are currently being developed for schools and care institutions.
---
Ipal is manufacturered by
AvatarMind
---
Specifications Ipal
The Ipal robot is 103 cm tall, Weighing 12.5 kg. Ipal has 6 microphones, 5 in the head, 1 in the chest to localize sound. The battery is located in the lower part of the robot so that falling over is almost impossible. The robot can be remote controlled with telepresence.
Software, Android OS, All standard Android apps can run on the 6 inch display. Content Editor to create content and activities for iPal along a timeline. SDK for futher developments
Buying the Ipal social robot start from 3900 euro.
Applications Ipal
iPal is a teacher for children with spoken language learning and tablet-based educational programs, providing educational content in an engaging manner that supports social development and encourages interest in science and technology.
Elder Companionship/Care : Many elders are alone and lonely. They often have problems keeping track of everyday activities, such as taking their medicine. iPal is a constant companion that supplements personal care services and provides security with alerts for many medical emergencies such as falling down.
Retail/Hospitality : An example is a chain of children's stores where iPal greets children when they come in the door, entertains them, tells them about products, etc. Another is as a concierge/greeter in hotels to provide guests with a higher level of personal service.
---
Latest news about Ipal
Healthcare provider in the netherlands extends experiments on social robots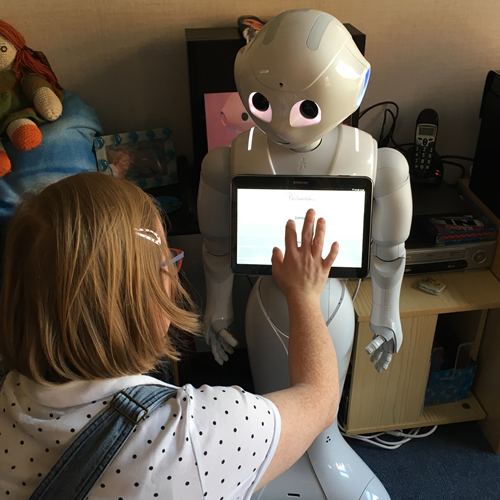 Healthcare provider Philadelphia sees robots as a tool and complementary to the existing care process. The Pepper robot, renamed Phi robot at Philadelphia, has already met more than 2,000 clients, relatives and employees. From the time spent in the accommodation periods, it appears that the robot fulfils a function as an emotional outlet. The robot also helps with practical control, such as the daily rhythm. The robot helps to remind people of certain things or gives suggestions for actions. Clients visibly build a bond, gain more self-confidence and learn from and with the robot.
...read more