HSR service robot
---
Human Support Robot
HSR, the abbreviation for Human Resource Robot, is Toyota's newest robot. HSR is meant to do various jobs in the house such as open curtains, pick up objects and keep your house tidy.
---
HSR service robot is manufacturered by
Toyota
---
Features HSR
The robot weighs 70 lbs.
The robot travels at a maximum speed of about 3 km per hour.
The robot has a telescopic body between 1 meter and 1.75 cm.
The robot arm can lift objects up to 130 cm long and weighing 1.2 kg or less
It can overcome unevenness in the floor up to 0.3 inches (enough to cross from hardwood to carpet).
The robot and can climb slopes up to 5 degrees.
The robot appears to be both a ProSense (Microsoft Kinect) sensor and stereo cameras in its head that enable the robot to identify depth and recognize people and objects.
Made for a homely environment
The HSR robot in its dimensions and features is really made to work in a home or hospital environment. In addition, Toyota engineers attach great importance to the robot's movements being careful, safe and not very powerful, so that they cannot accidentally injure their user.
---
Latest news about HSR service robot
A robot for cleaning up your house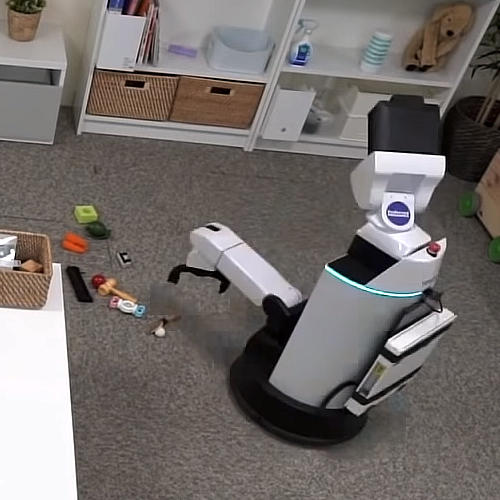 Robots that help in the household. A wish we hear many people express when we ask what kind of robot would you like to have. The robots from Japanese company Preferred Networks can put back swinging objects in the living room where they belong. This is done using Toyota's HSR, Human Support Robot.
...read more
Robots at the Olympic and Paralympic Games (Tokyo 2020)
The Tokyo Organisation announced the launch of its new Tokyo 2020 Robot Project, one of many programmes aimed at ensuring the Tokyo 2020 Games will be the most innovative ever. This project will not simply be about exhibiting robots, but showcasing their practical real-life deployment helping people. Human Support Robot (HSR) Human Support Robot and Delivery Support Robot developed by Toyota Motor Corporation will allow all spectators to enjoy watching the Tokyo 2020 Games in greater comfort. The robots will provide assistance to spectators in wheelchairs at the Olympic Stadium by carrying food and other goods, guiding people to their seats, and providing event information.
...read more