HSR service robot
---
Robot de soutien humain
HSR, l'abréviation de Human Resource Robot, est le plus récent robot de Toyota. HSR est destiné à faire divers travaux dans la maison, comme ouvrir des rideaux, ramasser des objets et garder votre maison en ordre.
---
HSR service robot est fabriqué par
Toyota
---
Features HSR
The robot weighs 70 lbs.
The robot travels at a maximum speed of about 3 km per hour.
The robot has a telescopic body between 1 meter and 1.75 cm.
The robot arm can lift objects up to 130 cm long and weighing 1.2 kg or less
It can overcome unevenness in the floor up to 0.3 inches (enough to cross from hardwood to carpet).
The robot and can climb slopes up to 5 degrees.
The robot appears to be both a ProSense (Microsoft Kinect) sensor and stereo cameras in its head that enable the robot to identify depth and recognize people and objects.
Made for a homely environment
The HSR robot in its dimensions and features is really made to work in a home or hospital environment. In addition, Toyota engineers attach great importance to the robot's movements being careful, safe and not very powerful, so that they cannot accidentally injure their user.
---
Latest news about HSR service robot
Un robot pour nettoyer votre maison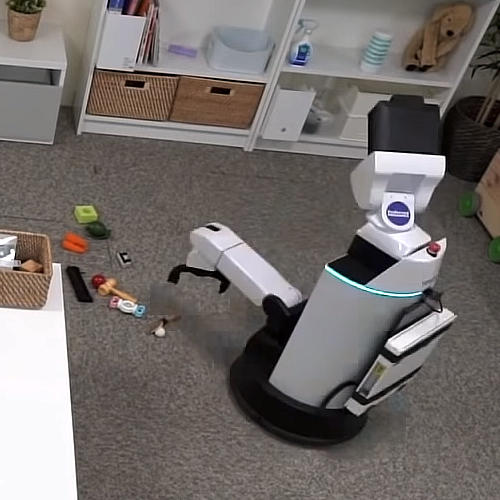 Des robots qui aident à la maison. Un souhait que nous entendons beaucoup de gens exprimer quand nous demandons quel type de robot vous aimeriez avoir. Les robots des Preferred Networks peuvent remettre les objets en mouvement dans le salon où ils se trouvent. Cela se fait à l'aide du robot de soutien humain HSR de Toyota.
...read more
Robots aux Jeux Olympiques et Paralympiques (Tokyo 2020)
L'Organisation de Tokyo a annoncé le lancement de son nouveau Tokyo 2020 Robot Project, l'un des nombreux programmes conçus pour faire en sorte que les Jeux de Tokyo 2020 soient les plus novateurs jamais organisés. Il ne s'agit pas seulement d'exposer des robots, mais aussi de les utiliser dans la pratique. Robot de soutien humain (HSR) Robot de soutien humain et robot de livraison développé par Toyota Motor Corporation permettra à tous les spectateurs de voir les Jeux de Tokyo 2020 dans un plus grand confort. Les robots aideront les spectateurs en fauteuil roulant dans le stade olympique en apportant de la nourriture et d'autres biens, en guidant les gens jusqu'à leur siège et en fournissant des informations sur l'événement.
...read more