Zenbo
---
Robot Zenbo par Asus
Asus a récemment dévoilé un robot familial qui peut servir d'assistant de soins à domicile, contrôler les appareils connectés dans la maison intelligente, surveiller la sécurité, effectuer diverses tâches en ligne, et fonctionner comme compagnon de jeu, entre autres choses. Le Zenbo d'Asus a fait ses débuts au salon informatique Computex. Au même moment, Asus a lancé un programme qui permet aux développeurs d'accéder au SDK Zenbo. Le prix de Zenbo sera fixé à 600 $US, mais Asus n'a pas annoncé quand il sera disponible pour les consommateurs.
---
Zenbo est fabriqué par
Asus
---
Links for Zenbo
Zenbo website
Robot personnel
Cela suit la tendance des robots personnels en s'appuyant sur la technologie et les tendances des services qui ont rendu le smartphone populaire. "Vous pouvez voir cela comme un smartphone ou un Amazon Echo avec mobilité et possibilité d'utiliser l'écran, le capteur de la caméra, la LED infrarouge.
---
Latest news about Zenbo
Healthcare provider in the netherlands extends experiments on social robots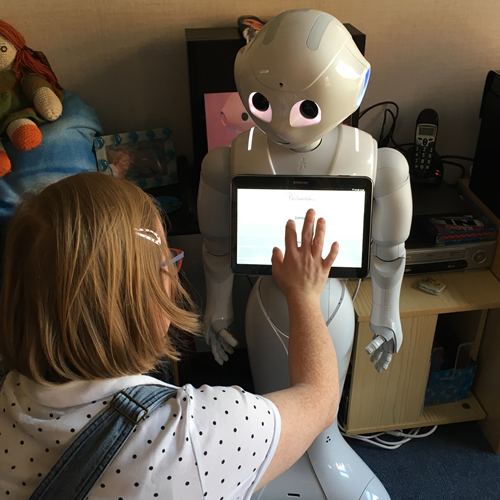 Healthcare provider Philadelphia sees robots as a tool and complementary to the existing care process. The Pepper robot, renamed Phi robot at Philadelphia, has already met more than 2,000 clients, relatives and employees. From the time spent in the accommodation periods, it appears that the robot fulfils a function as an emotional outlet. The robot also helps with practical control, such as the daily rhythm. The robot helps to remind people of certain things or gives suggestions for actions. Clients visibly build a bond, gain more self-confidence and learn from and with the robot.
...read more