Google Home
---
L'assistant digital
Google home, un appareil Google dans votre maison avec lequel vous pouvez parler. Il s'agit d'un haut-parleur avec des microphones à champ lointain que vous pouvez entendre de toute la pièce. L'appareil répondra à vos questions, jouera votre musique, gérera votre calendrier et votre courrier et pourra contrôler votre domotique.
---
Google Home est fabriqué par
Google
---
Links for Google Home
Google store US
Qu'est-ce que Google Home
Bien entendu, les données sous-jacentes sont importantes pour une utilisation fonctionnelle. L'utilisation de Gmail, Google calendar et Spotify sera importante pour tirer le meilleur parti de cet assistant intelligent. En termes d'infrastructure, Google Nest et Chromecast jouent un rôle important dans la gestion de votre télévision et de votre domotique.
L'intimité ; dans l'environnement domestique, la "vie privée" est une question brûlante. En tant que consommateurs, nous n'aimerons pas que l'assistant intelligent enregistre tout, mais seulement prendre des mesures si nous le voulons. Pour l'instant, vous pouvez activer l'appareil avec "Oke Google".
---
Latest news about Google Home
Google Home from 24 October in Dutch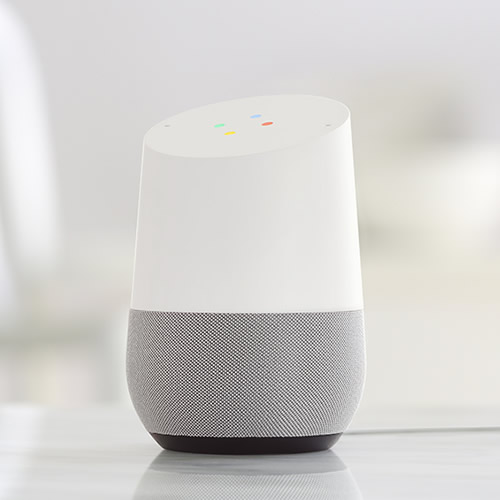 Googles Home-smartspeaker will be available in Dutch stores from 24 October. This is shown by an e-mail that Google has sent to partners who are working on Google Assistant-support for their services. It was already known that Google Home would eventually also come to the Netherlands. When the search giant released the Dutch version of Google Assistant for phones earlier this year, the company already announced that the voice assistant had to work on the Home speakers later this year.
...read more