SpotMini
---
Good Things Come in Small Packages
SpotMini is a small four-legged robot that comfortably fits in an office or home. It weighs 25 kg (30 kg if you include the arm). SpotMini is all-electric and can go for about 90 minutes on a charge, depending on what it is doing. SpotMini is the quietest robot we have built. SpotMini inherits all of the mobility of its bigger brother, Spot, while adding the ability to pick up and handle objects using its 5 degree-of-freedom arm and beefed up perception sensors. The sensor suite includes stereo cameras, depth cameras, an IMU, and position/force sensors in the limbs. These sensors help with navigation and mobile manipulation.
---
SpotMini is manufacturered by
Boston Dynamics
---
---
Latest news about SpotMini
Perro robot Boston Dynamics con brazos robóticos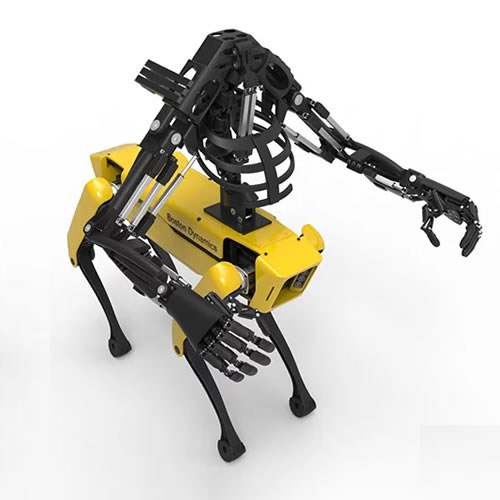 Boston Dynamics ha estado desarrollando robots avanzados desde hace bastante tiempo, incluyendo el perro robot SpotMini. YouBionic ha introducido un concepto con brazos impresos en 3D para dar a esta hermosa base no sólo pies sino también manos. ¿Sólo un concepto? Esta compañía ofrece una solución completa de brazo impreso en 3D para el Boston Dynamics SpotMini. YouBionic vende los modelos 3D $179 que usted mismo tiene que imprimir y ensamblar. Todavía no hay mucha documentación sobre cómo funcionará el sistema en la práctica: las STL contienen los componentes estructurales, pero no la electrónica. Y eso no es poco importante. Es un concepto fascinante y puede ser el comienzo de una verdadera solución robótica basada en componentes.
...read more