HSR service robot
---
Robot de Soporte Humano
HSR, la abreviatura de Human Resource Robot, es el robot más nuevo de Toyota. HSR está diseñado para hacer varios trabajos en la casa como abrir cortinas, recoger objetos y mantener su casa ordenada.
---
HSR service robot is manufacturered by
Toyota
---
Features HSR
The robot weighs 70 lbs.
The robot travels at a maximum speed of about 3 km per hour.
The robot has a telescopic body between 1 meter and 1.75 cm.
The robot arm can lift objects up to 130 cm long and weighing 1.2 kg or less
It can overcome unevenness in the floor up to 0.3 inches (enough to cross from hardwood to carpet).
The robot and can climb slopes up to 5 degrees.
The robot appears to be both a ProSense (Microsoft Kinect) sensor and stereo cameras in its head that enable the robot to identify depth and recognize people and objects.
Made for a homely environment
The HSR robot in its dimensions and features is really made to work in a home or hospital environment. In addition, Toyota engineers attach great importance to the robot's movements being careful, safe and not very powerful, so that they cannot accidentally injure their user.
---
Latest news about HSR service robot
Un robot para limpiar su casa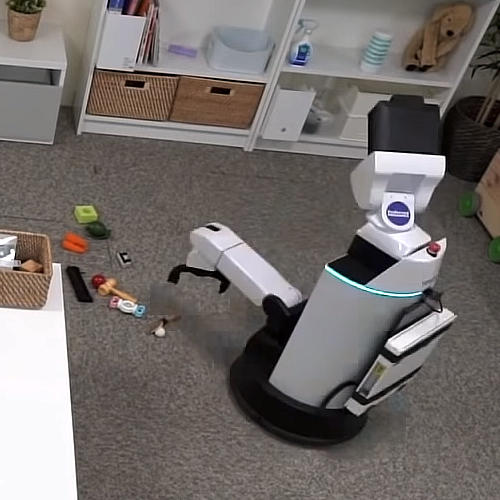 Robots que ayudan en el hogar. Un deseo que oímos expresar a mucha gente cuando le preguntamos qué tipo de robot le gustaría tener. Los robots de Preferred Networks pueden volver a colocar objetos oscilantes en la sala de estar a la que pertenecen. Esto se hace usando el HSR de Toyota, Robot de Soporte Humano.
...read more