Handle, new Boston Dynamics robot
---
Boston Dynamics has shown a new robot. Unlike robots that the company previously made, now with wheels that are attached to the legs.
---
Related Products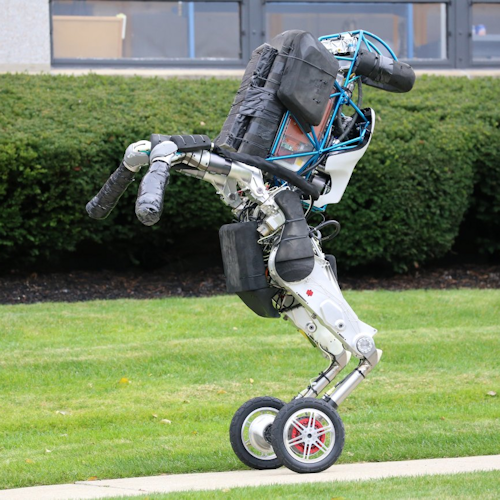 Handle by Boston Dynamics
Handle is a robot that combines the rough-terrain capability of legs with the efficiency of wheels. It uses many of the same principles for dynamics, balance, and mobile manipulation? found in the quadruped and biped robots Boston Dynamics has built, but with only 10 actuated joints, it is significantly less complex. Wheels are fast and efficient on flat surfaces while legs can go almost anywhere: by combining wheels and legs, Handle has the best of both worlds. Handle can pick up heavy loads while occupying a small footprint, allowing it to maneuver in tight spaces. All of Handle's joints are coordinated to deliver high-performance mobile manipulation.
Handle
---
Related Categories
---
---
---
Wheels
Wheels have a number of advantages over feet. This allows the handheld robot to move more quickly on a flat surface. Is there less resistance and therefore energy consumption and would this variant be cheaper.
Wielen hebben een aantal voordelen t.o.v. voeten. Hiermee kan de handle robot zich sneller verplaatsen over een vlakke ondergrond. Is er sprake van minder weerstand en dus energie verbruik en zou deze variant goedkoper zijn.
Effect
In de video te zien dat de robot zich goed voort beweegt op ruw terrein. Verder toont de demonstratievideo hoe de robot onder allerlei omstandigheden en bij het maken van verschillende bewegingen stabiel weet te blijven en zelfs een sprong kan maken. Met name het gebruik van (even)gewicht is hierbij belangrijk.
Waar Boston Dynamic precies naar toe wil met zijn robots is nog onbekend. Het ontbreken van voeten heeft in ieder geval als nadeel dat traplopen lastig wordt.