Zenbo
---
Robot Zenbo de Asus
Asus ha presentado recientemente un robot familiar que puede servir como asistente de asistencia sanitaria en el hogar, controlar los dispositivos conectados en la casa inteligente, supervisar la seguridad, realizar varias tareas en línea y funcionar como compañero de juegos, entre otras cosas. Zenbo de Asus hizo su debut en la feria de computación Computex. Al mismo tiempo, Asus lanzó un programa que proporciona a los desarrolladores acceso al SDK de Zenbo. Zenbo tendrá un precio de 600 dólares, pero Asus no anunció cuándo estará disponible para los consumidores.
---
Zenbo is manufacturered by
Asus
---
Links for Zenbo
Zenbo website
Robot personal
Esto sigue la tendencia de los robots personales que se basan en las tendencias tecnológicas y de servicios que hicieron popular al smartphone. "Puedes ver esto como un smartphone o un Amazon Echo con movilidad y posibilidad de usar la pantalla, el sensor de la cámara, el LED infrarrojo, para usar.
---
Latest news about Zenbo
Healthcare provider in the netherlands extends experiments on social robots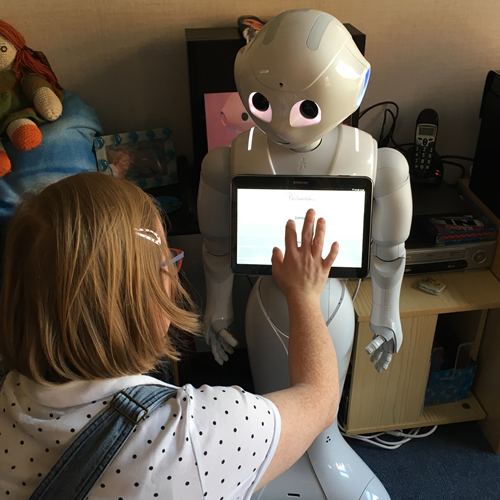 Healthcare provider Philadelphia sees robots as a tool and complementary to the existing care process. The Pepper robot, renamed Phi robot at Philadelphia, has already met more than 2,000 clients, relatives and employees. From the time spent in the accommodation periods, it appears that the robot fulfils a function as an emotional outlet. The robot also helps with practical control, such as the daily rhythm. The robot helps to remind people of certain things or gives suggestions for actions. Clients visibly build a bond, gain more self-confidence and learn from and with the robot.
...read more