MJI Robotics
---
MJI développe un robot de communication qui colore votre vie, vous fait sourire et vous fait ralentir.
MJI est une entreprise qui fabrique un robot de communication avec le slogan "MORE JOYOUS INNOVATION". Créé en juillet 2015.
---
Produits par MJI Robotics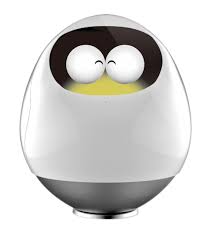 Tapia robot
Après une longue journée, Tapia illuminera votre cœur de blagues et de rires. Asseyez-vous près de Tapia et le robot vous aidera à entrer en contact avec des personnes qui sont importantes pour vous. Tapia peut également vous donner les dernières informations météorologiques lorsque vous sortez et vous pouvez ajouter de la musique lorsque vous voulez vous détendre ou changer d'humeur.
MJI Communicatie Robot Tapia
---
WHAT WE ARE STRIVING FOR
As smartphones and cloud devices spread and evolve, our living environment continues to change every day. We looked at the ease of life, the environment and the way people and people change together.
Robotics are already being adopted as household equipment. I am convinced that robots will become good partners of the future, not only in the industrial field, but also in our lives and will support people's lives.