Humanoid Robots
---
Humanoid the human robot. Developments go fast. Man robot as a teacher or model with sensitive sensors. The appearance of a human person is often pursued to make people familiar with the robot.
---
sub categories
Robot Man
Female robot
Human service robot
---
---
Humanoid Robots related robots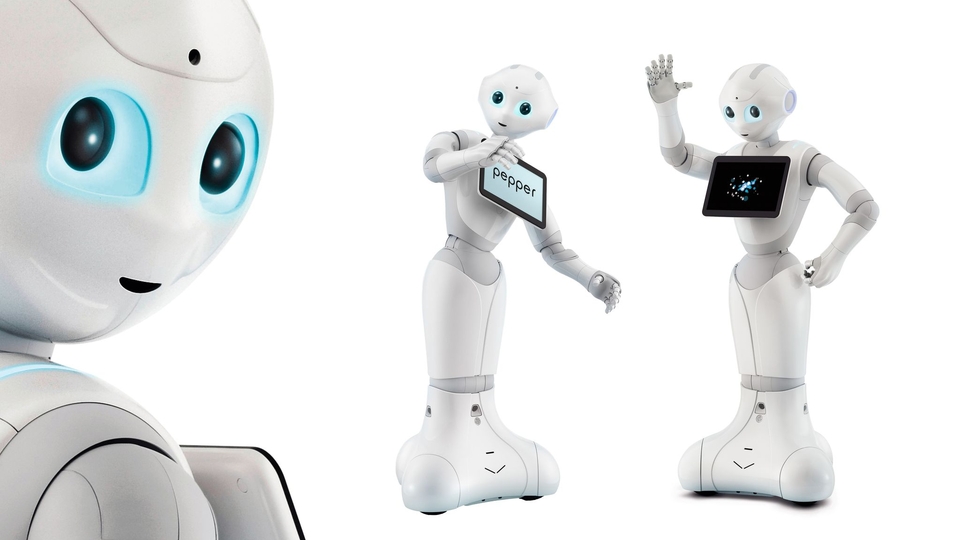 Pepper robot
Pepper robot is the social robot of Softbank. Robot Pepper is designed to communicate with people. This friendly robot with tablet on his chest invites to interact. He can't wash up and cook, but he can make sure you don't forget anything. He can look up things for you on the internet, remind you of your appointments and play with you. He recognizes your emotions and will, for example, play a nice song when you are sip. He can also have small conversations with you. All Peppers are connected via the Cloud, so they will learn from each other and get better and better.
Pepper robot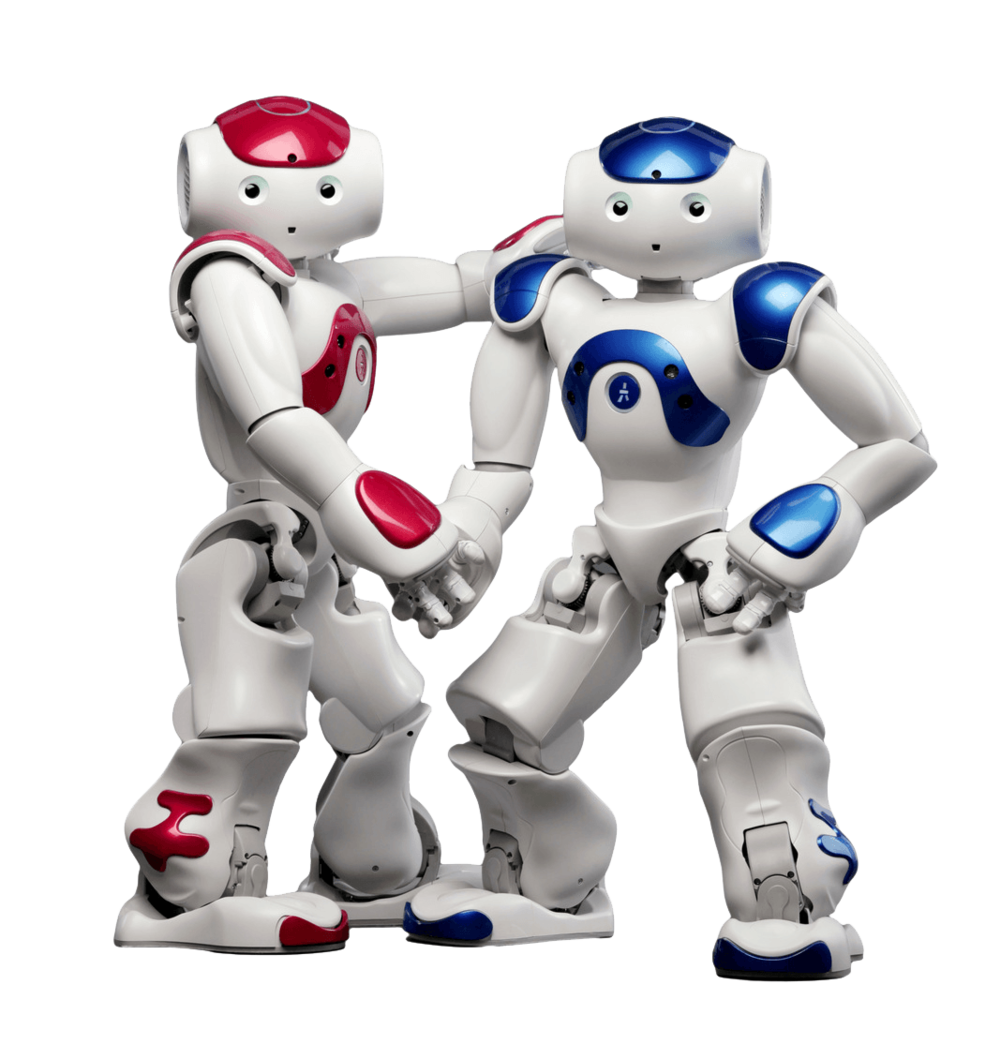 Nao robot
Robot Nao, started in 2005 and aims to deliver a humanoid robot with mechanical, electronic and cognitive skills to a wider audience, at a reasonable price. NAO is to become a friend of the family in assisting in daily tasks at home. Afterwards, there is a platform where you can add extra functionality to the robot by means of Apps.The latest version is the NAO6. We encounter Nao in various applications. For example, the robot is used as a buddy for children with diabetes and the robot is often used in education. In most cases, the Nao is sold in combination with specific software that provides the functionality. An indicative price is around 6,000 Euro.
Nao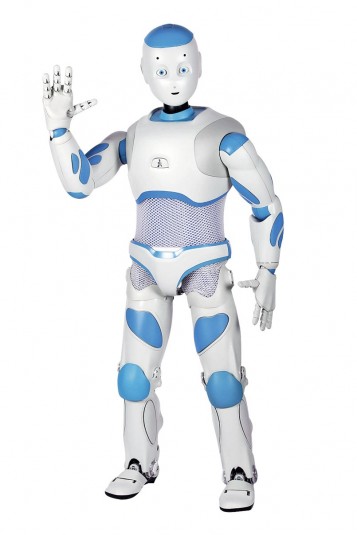 Romeo humanoid robot
Romeo is a 140 cm tall humanoid robot, designed to explore and further research into assisting elderly people and those who are losing their autonomy. Romeo is the fruit of collaboration between numerous French and European laboratories and institutions. His size was determined so as to enable him to open doors, climb stairs and reach objects on a table.
Romeo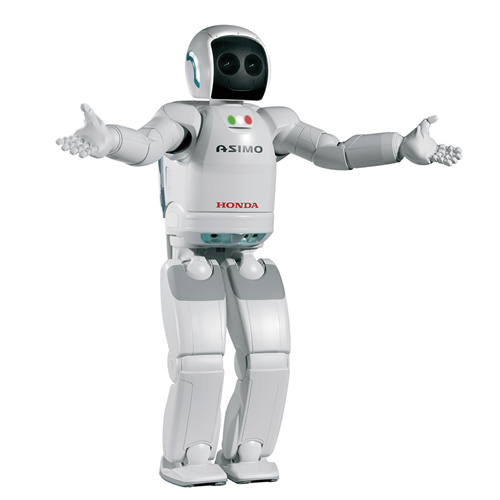 Asimo
Honda developed Asimo. The robot is 130 centimeters high and weighs 54 kilograms. The robot has the appearance of an astronaut wearing a backpack and can walk up to 3 km per hour and 6 kilometers per hour run. The robot is an acronym for Advanced Step in Innovative Mobility. In 2007 there are 46 ASIMO robots. The robot is now in third generation. Asimo is a humanoid robot. He has the look of a man and a man of the senses. The human form was designed to familiarize him, not functionality.
Asimo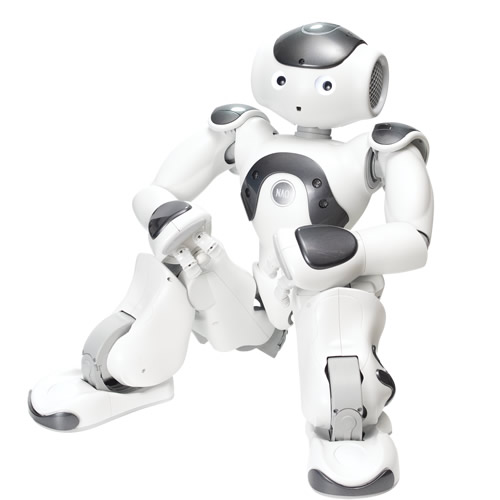 NAO6 Humanoid robot
NAO6 is the sixth geneartion of the humanoid robot NAO. Create a unique human-robot interaction experience and leverage it to a new level with this attractive programmable platform with a lot of improvements.
NAO6 Humanoid robot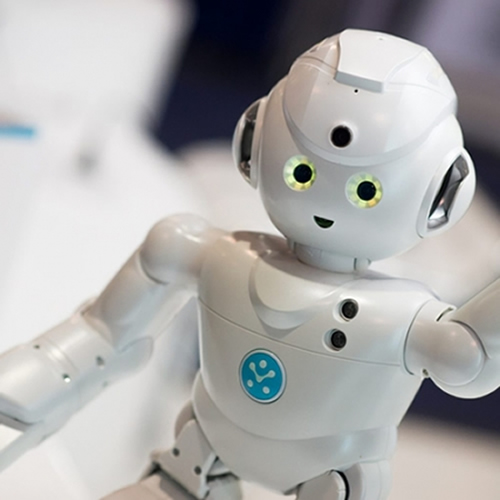 Lynx robot with Amazon Alexa
The Lynx is a robot that combines the Alpha Robot with the voice recognition capabilities of Amazon's Alexa and its AI. Avatar Mode : Be there… when you can't be there. Enable Avatar Mode in the Lynx app from anywhere in the world. You can see, hear, and speak – all through your Lynx robot. You can also ask Lynx to perform functions such as wave hi, give a hug, or dance by using the Lynx Robot app on your smartphone.
Lynx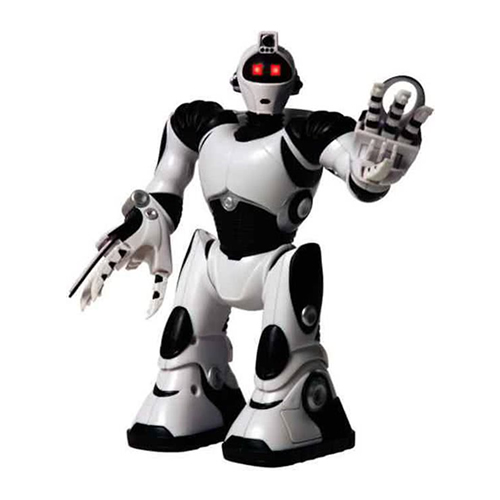 Robosapien V2
The Robosapien V2 is the second generation of Mark Tilden's Robosapien robot. It is nearly twice the size of the original robot, standing around 1.5 feet (46 cm) tall. Instead of the original caveman grunts the V2 can speak a large list of pre-recorded phrases. It has infrared and basic color recognition sensors, grip sensors in its hands, touch or contact activated hand and foot sensors, and sonic sensors as well. For movement the V2 has an articulated waist, shoulders, and hands giving him a variety of body animations.
Robosapien V2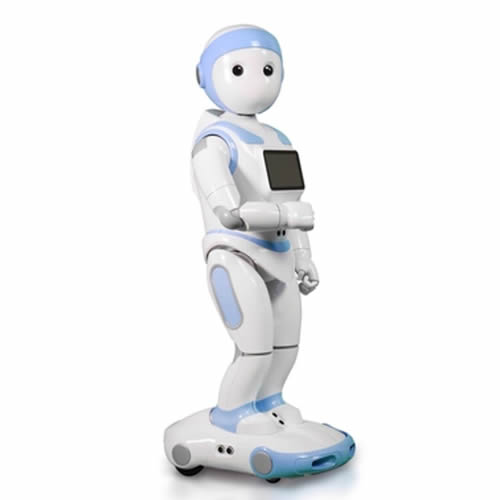 Ipal social robot
iPAL Robot, according to the supplier, AvatarMind, the robot can be used for Children's Education, Elder Care, and Hospitality/Retail. Various software packages are currently being developed for schools and care institutions.
Ipal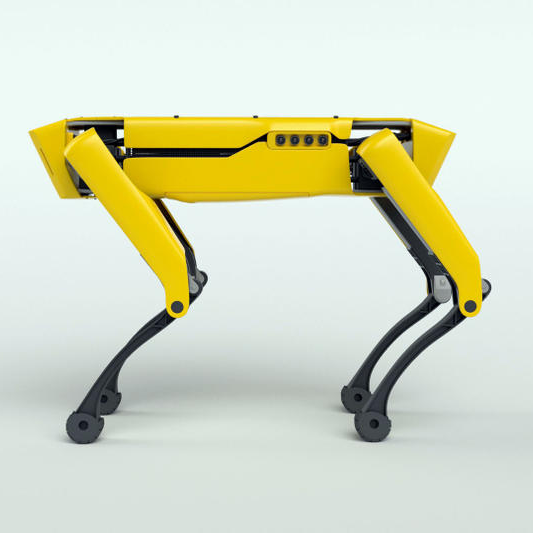 Good Things Come in Small Packages
SpotMini is a small four-legged robot that comfortably fits in an office or home. It weighs 25 kg (30 kg if you include the arm). SpotMini is all-electric and can go for about 90 minutes on a charge, depending on what it is doing. SpotMini is the quietest robot we have built. SpotMini inherits all of the mobility of its bigger brother, Spot, while adding the ability to pick up and handle objects using its 5 degree-of-freedom arm and beefed up perception sensors. The sensor suite includes stereo cameras, depth cameras, an IMU, and position/force sensors in the limbs. These sensors help with navigation and mobile manipulation.
SpotMini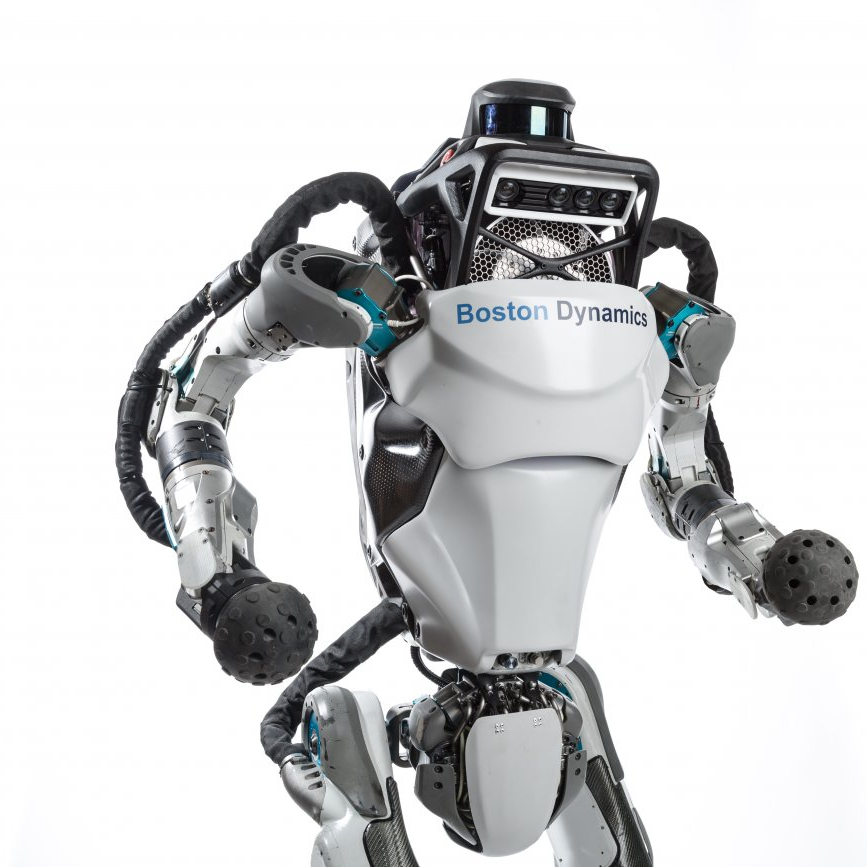 Atlas robot by Boston Dynamics
Atlas is the latest in a line of advanced humanoid robots Boston Dynamics is developing. Atlas' control system coordinates motions of the arms, torso and legs to achieve whole-body mobile manipulation, greatly expanding its reach and workspace. Atlas' ability to balance while performing tasks allows it to work in a large volume while occupying only a small footprint. The Atlas hardware takes advantage of 3D printing to save weight and space, resulting in a remarkable compact robot with high strength-to-weight ratio and a dramatically large workspace. Stereo vision, range sensing and other sensors give Atlas the ability to manipulate objects in its environment and to travel on rough terrain. Atlas keeps its balance when jostled or pushed and can get up if it tips over.
Atlas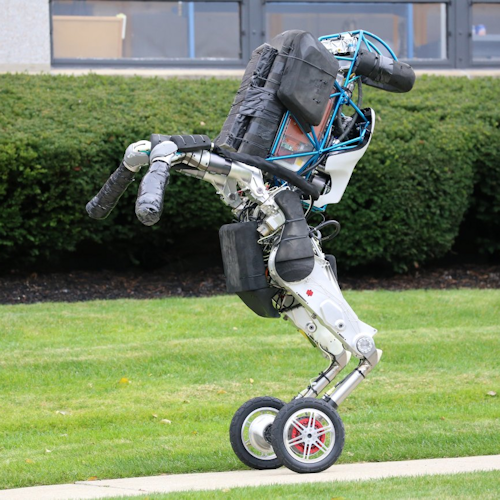 Handle by Boston Dynamics
Handle is a robot that combines the rough-terrain capability of legs with the efficiency of wheels. It uses many of the same principles for dynamics, balance, and mobile manipulation? found in the quadruped and biped robots Boston Dynamics has built, but with only 10 actuated joints, it is significantly less complex. Wheels are fast and efficient on flat surfaces while legs can go almost anywhere: by combining wheels and legs, Handle has the best of both worlds. Handle can pick up heavy loads while occupying a small footprint, allowing it to maneuver in tight spaces. All of Handle's joints are coordinated to deliver high-performance mobile manipulation.
Handle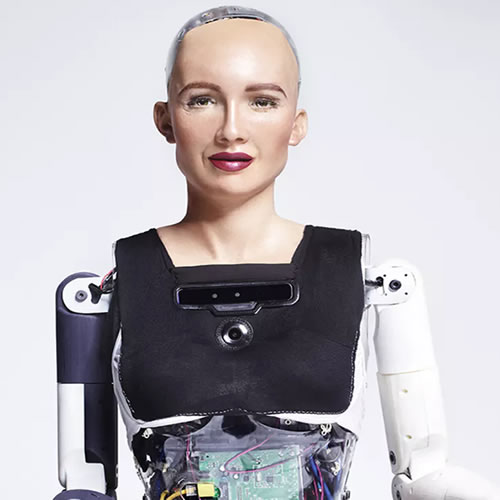 Humanoid Robot Sophia
Robot Sophia is the newest human-like robot, made by combining innovations in science, technology and artistry. The robot was created as a personification for the future of AI, but also as a framework for advanced AI and robotics research, and an agent for exploring human-robot experience in service and entertainment applications.
Robot Sophia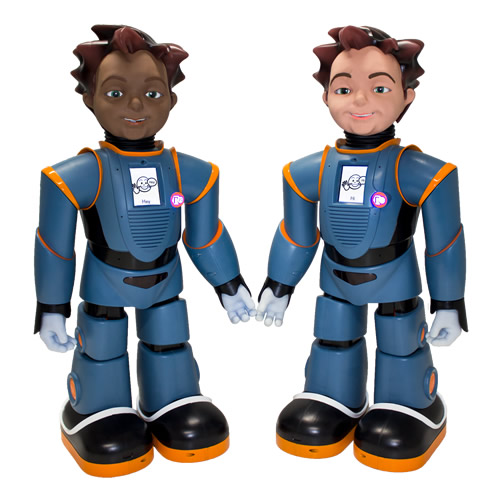 Zeno humanoid robot as a buddy
The Zeno robot is a humanoid robot. They have very advanced facial expressions. This technology makes them ideal for therapies that focus on emotion and social relationships. Zeno is 56 cm high. The robot can walk and move its arms. The Robot is equipped with a camera, 8 microphones, a speedometer and a compass. The Robot speaks 26 different languages and has a touch display on his chest with which he can be controlled. Zeno's movements can be programmed via a graphic program 'RoboWorkshop'. For advanced users it is also possible to write their own software in Java and C++. In the latter case Zeno can be integrated in technique lessons.
Zeno robot
Little Sophia robot
Little Sophia can walk, talk, sing, play games and, like her big sister, even tell jokes! She is a programmable, educational companion, who will inspire children to learn about coding, AI, science, technology, engineering and mathematics through a safe, interactive, human-robot experience. Unlike most educational toys designed by toy companies, Little Sophia is made by the same famous developers, engineers, robotics and AI-scientists who made Sophia the Robot.
Little sophia robot
---
Humanoid, human robot has many functions
A humanoid robot can perform many tasks. Of course as a buddy or friend but also in teaching is the humanoid coming-up. Humanoids that assist in and around the house will have to wait. But there are developments that indicate that the humanoid will take over tasks.
Development humanoids, human robots
The humanoid robot is obviously the closest to man. There have been uses as a model, teacher or robot baby. Some humanoids approaching the appearance of man very strong and discussions if a humanoid can be a life partner, are underway. What social roles will the human robot play? Wait and see but it is certainly interesting to monitor developments.
---
Latest news about Humanoid Robots
---