Google
---
Google is an Alphabet search engine for documents on the worldwide web, founded in 1997 by two PhD students at Standford University, Larry Page and Sergey Brin. Page and Brin had spent two years working on an advanced method for finding information on the Internet. Soon Google replaced AltaVista and became the world's most popular search engine. Users were satisfied with the search results and their presentation: on a quiet page, without the screaming ads seen on many other search engines.
The name is a corruption of the term 'googol', the indication for a 1 with one hundred zeros (10100). Page is fascinated by mathematics, and the reference to this number reflects the company's mission to make all the information in the world accessible and useful. The name eventually became 'Google' due to a spelling error of Sean Anderson, co-inventor of the name, and at the time a fellow student of Page.
---
Products by Google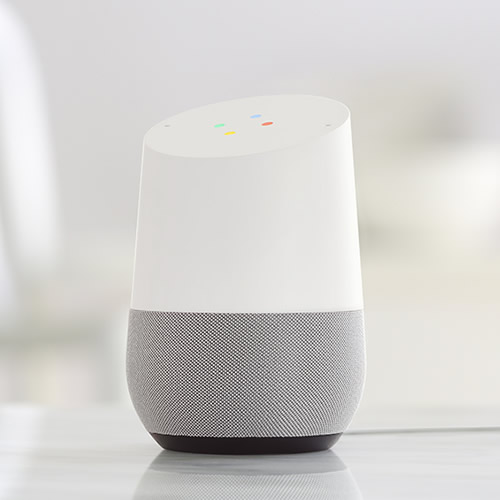 The digital assistant
Google home, a Google device in your home that you can talk to. It is a loudspeaker with far-field microphones that you can hear from all over the room. The device will answer your questions, play your music, manage your calendar and mail and can control your home automation.
Google Home
Google Home Hub
Long expected, the Google smart assistant with screen, called the home hub. Besides voice control, you can also use the touchscreen. Logical applications of the new Home Hub are showing recipes, YouTube videos and calendar information. And of course there is a link to music streaming services like Spotify and Google Play Music playback. When not in use, the Home Hub displays on its screen photos from the user's library, as well as information about time and weather. You can buy the Google Home Hub in 4 colors. Namely charcoal, aqua, chalk or sand for a price around $150. Available from October 22nd in the U.S., the U.K. and Australia.
Google Home Hub
---