SpotMini
---
Good Things Come in Small Packages
SpotMini is a small four-legged robot that comfortably fits in an office or home. It weighs 25 kg (30 kg if you include the arm). SpotMini is all-electric and can go for about 90 minutes on a charge, depending on what it is doing. SpotMini is the quietest robot we have built. SpotMini inherits all of the mobility of its bigger brother, Spot, while adding the ability to pick up and handle objects using its 5 degree-of-freedom arm and beefed up perception sensors. The sensor suite includes stereo cameras, depth cameras, an IMU, and position/force sensors in the limbs. These sensors help with navigation and mobile manipulation.
---
SpotMini wird hergestellt von
Boston Dynamics
---
---
Latest news about SpotMini
Roboterhund Boston Dynamics mit Roboterarmen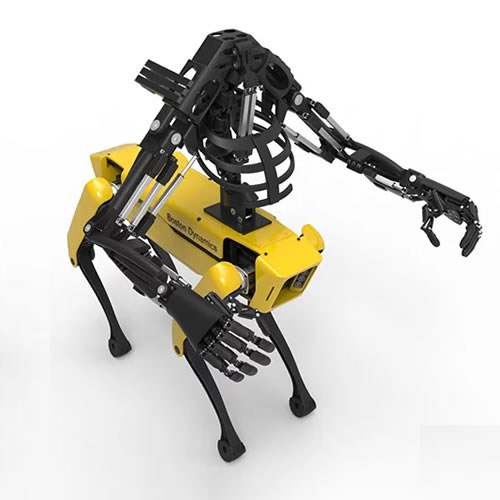 Boston Dynamics entwickelt seit geraumer Zeit fortschrittliche Roboter, darunter den Roboterhund SpotMini. YouBionic hat jetzt ein Konzept mit 3D-Druckarmen vorgestellt, um dieser schönen Basis nicht nur Füße, sondern auch Hände zu geben. Nur ein Konzept? Dieses Unternehmen bietet eine vollwertige 3D-Druckarmlösung für den Boston Dynamics SpotMini an. YouBionic verkauft die 3D-Modelle $179, die Sie selbst drucken und zusammenbauen müssen. Wie das System in der Praxis funktionieren wird, ist noch nicht viel dokumentiert - die STLs enthalten die Strukturbauteile, aber nicht die Elektronik. Und das ist nicht unwichtig. Es ist ein faszinierendes Konzept und kann der Beginn einer echten komponentenbasierten Robotiklösung sein.
...read more