Atlas
---
Atlas robot by Boston Dynamics
Atlas is the latest in a line of advanced humanoid robots Boston Dynamics is developing. Atlas' control system coordinates motions of the arms, torso and legs to achieve whole-body mobile manipulation, greatly expanding its reach and workspace. Atlas' ability to balance while performing tasks allows it to work in a large volume while occupying only a small footprint. The Atlas hardware takes advantage of 3D printing to save weight and space, resulting in a remarkable compact robot with high strength-to-weight ratio and a dramatically large workspace. Stereo vision, range sensing and other sensors give Atlas the ability to manipulate objects in its environment and to travel on rough terrain. Atlas keeps its balance when jostled or pushed and can get up if it tips over.
---
Atlas wird hergestellt von
Boston Dynamics
---
---
Latest news about Atlas
Atlas Roboter Laufkurs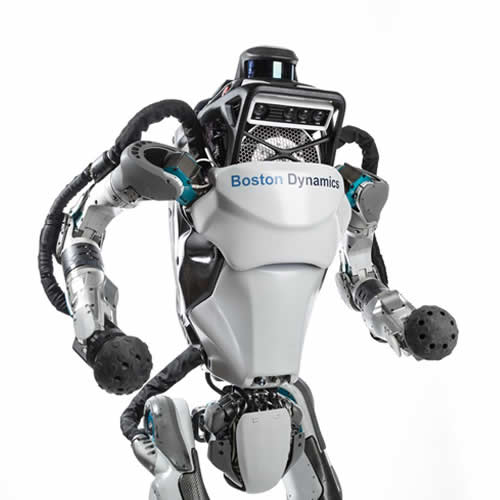 Wir kennen den Atlas-Roboter von Boston Dynamics schon seit einiger Zeit. Über unwirtliches Gelände fließend, ein Salto rückwärts. Die Macher sind einen Schritt weiter, wie in diesem Video zu sehen ist. Die Steuerungssoftware nutzt den ganzen Körper, einschließlich Beine, Arme und Rumpf, um Energie und Kraft zu kombinieren, um über den Rumpf zu springen und die Schritte hochzuspringen, ohne das Tempo zu brechen. (Stufenhöhe 40 cm.) Atlas verwendet Computervision, um sich selbst zu lokalisieren.
...read more