Google Home
---
Der digitale Assistent
Google-home, ein Google-Gerät in Ihrem Zuhause, mit dem Sie sprechen können. Es ist ein Lautsprecher mit Fernfeldmikrofonen, den man aus dem ganzen Raum hören kann. Das Gerät beantwortet Ihre Fragen, spielt Ihre Musik ab, verwaltet Ihren Kalender und Ihre E-Mails und kann Ihre Heimautomation steuern.
---
Google Home wird hergestellt von
Google
---
Links for Google Home
Google store US
Was ist Google Home
Natürlich sind die zugrunde liegenden Daten für die funktionale Nutzung wichtig. Die Verwendung von Google Mail, Google Kalender und Spotify wird wichtig sein, um das Beste aus diesem intelligenten Assistenten herauszuholen. Im Hinblick auf die Infrastruktur spielen Google Nest und Chromecast eine wichtige Rolle bei der Verwaltung Ihrer TV- und Heimautomation.
Privatsphäre; in der häuslichen Umgebung ist "Privatsphäre" ein heißes Thema. Als Verbraucher werden wir es nicht mögen, wenn der intelligente Assistent alles aufzeichnet, sondern nur dann, wenn wir es wollen. Vorerst können Sie das Gerät mit "Oke Google" aktivieren.
---
Latest news about Google Home
Google Home from 24 October in Dutch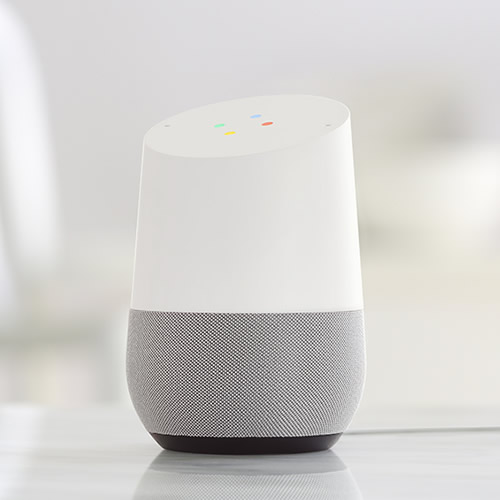 Googles Home-smartspeaker will be available in Dutch stores from 24 October. This is shown by an e-mail that Google has sent to partners who are working on Google Assistant-support for their services. It was already known that Google Home would eventually also come to the Netherlands. When the search giant released the Dutch version of Google Assistant for phones earlier this year, the company already announced that the voice assistant had to work on the Home speakers later this year.
...read more