GiraffPlus
---
Entwicklung eines vernetzten Systems im Haus, bestehend aus Umwelt- und physiologischen Sensoren.
GiraffPlus ist ein komplexes System, das über ein Netzwerk von Sensoren die Aktivitäten in und um das Haus sowie am Körper überwachen kann. Die Sensoren können z.B. den Blutdruck messen oder z.B. erkennen, ob jemand herunterfällt. Je nach Bedarf können verschiedene Leistungen vorselektiert und auf die Bedürfnisse der älteren Menschen und der Angehörigen der Gesundheitsberufe zugeschnitten werden. Herzstück des Systems ist der einzigartige Telepresence-Roboter Giraff, der dem Projekt seinen Namen gibt. Der Roboter nutzt eine Skype-ähnliche Schnittstelle, um z.B. Verwandten oder Betreuern den virtuellen Besuch einer älteren Person im Haus zu ermöglichen.
---
Produkte von GiraffPlus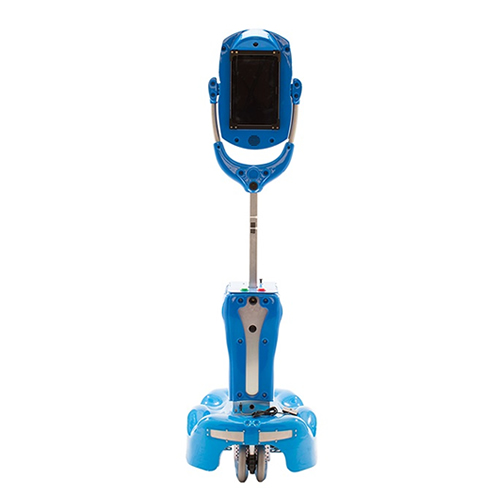 Giraff Telepräsenz-Roboter
Le robot de téléprésence Giraff vous permet de rendre visite à votre famille ou à vos connaissances depuis votre domicile par ordinateur. Vous pouvez vous déplacer librement dans la maison en déplaçant simplement la souris et en communiquant avec les résidents par vidéoconférence.
Giraff telepresence robot
---
GiraffPlus Project Aims
Develop a networked system in the home consisting of environmental and physiological sensors.
Develop intelligent services which can extract high level activities based on sensor data and provide a robust system.
Provide services such as alarms which via the Giraff will allow healthcare professionals and family to enable timely involvement.
By 2014 test the system in a real homes around Europe and include user feedback in all steps of the system design.