Cognitoys
---
Teilweise Spielzeug. Teilweise ein Freund. Absolut großartig
Les jouets CogniToys ne se contentent pas de répondre, ils répondent intelligemment. Si un enfant a peur, le dinosaure console l'enfant et les encourage à parler à un adulte en qui ils ont confiance.
---
Produkte von Cognitoys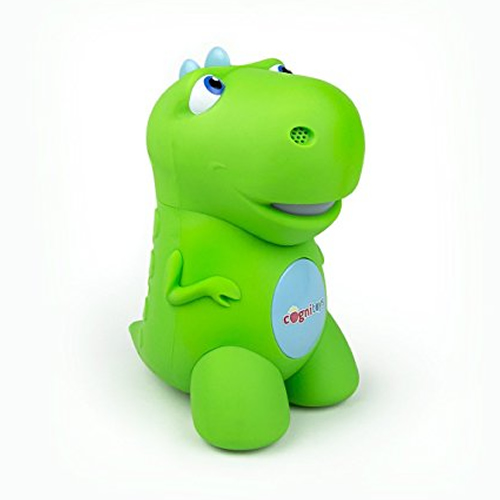 Cognitoys Dino roboter
CogniToys sind die nächste Generation von intelligenten Spielzeugen, die mit dem Internet verbunden sind. Das Spielzeug lernt und wächst mit Ihrem Kind. Cognitoys sind eine Alternative zu einer Tablette. Für Kinder ein treuer Begleiter.
Cognitoys Dino robot
---
How It Works
While many smart devices have educational benefits, they're still designed with grown-ups in mind. CogniToys are smart devices in toy form, tailored just for kids to provide an educational and entertaining experience without the need for a screen. Where other smart toys rely on pre-programmed responses, the Friendgine-powered dinosaurs listen to kids' questions and adapt to their age, allowing them to grow over time — just like kids do. The cloud-connected CogniToys can answer oodles of questions, tell bedtime stories and even crack "knock-knock" jokes!
Once connected to Wi-Fi via the CogniToys app, the dinosaurs no longer require a phone for playtime. Age-appropriate vocabulary words and math questions are sprinkled throughout the toy's many interactive games and stories to ensure no matter the activity, kids and their CogniToys are always learning.
CogniToys don't just respond, they respond intelligently. If a child's scared, the dinosaur consoles the child and encourages them to speak to an adult they trust. Or, if a child tells the dinosaur they're sad, the toy may suggest meditation or listening to a funny joke. CogniToys try to personalize interactions and can remember what a child shares — such as their name or favorite animal, etc. — to customize learning and future conversations. If a child asks a question their CogniToy doesn't know, we do our best to add the answer in a future content update.
Prioritizing safety, the smart toy's microphone is muted by default. To talk to your CogniToy, hold down its belly button until you're finished speaking. Let go when you're ready for it to respond. CogniToys are easy to hold and stand at about 7" tall. The toys require 4AA batteries, which last for 4 to 6 weeks with heavy use.